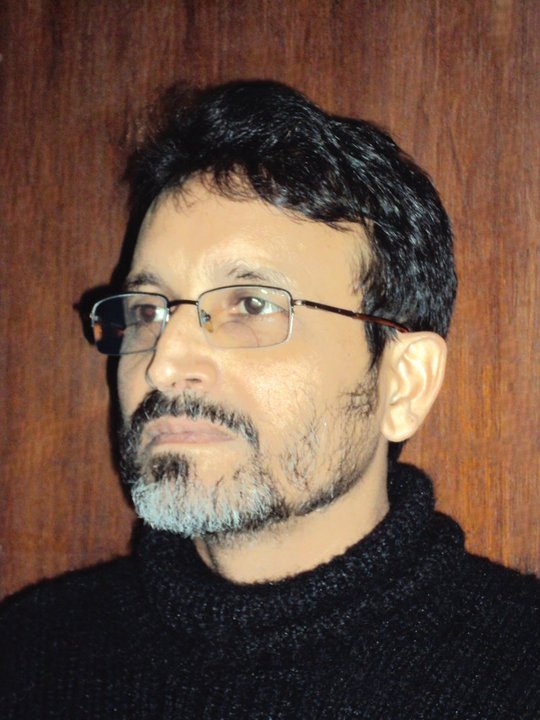 My 65 books have been published till date including 3 novels, 5 economics books, 1 poetry, 2 political commentary, 2 literary analysis, 5 translations, 1 thesis, 5 biographies and 4 e-books. Rest of the books are on Srimanta Sankaradeva and his works. I have translated Srimanta Sankaradeva's Bargeet and Gunamâlâ and Madhavadeva's Nâmghoshâ to English. I have edited three medieval hagiographies. One of my books, a biography of Srimanta Sankaradeva has been translated to Hindi. I have written an English novel THE REDEEMER based on Srimanta Sankaradeva's life.
I have a Physics and Economics background. I am an industrial economist by training. I worked as an Associate Professor of Economics in A. D. P. College, Nagaon, Assam. Now I am retired. I am deeply interested in the life and works of medieval reformer litterateur Srimanta Sankaradeva, who preached an egalitarian social outlook. I am trying to spread his humanitarian ideology globally. I am exploring his different aspects and trying to take his message globally. I have carried out research on the Assamese hagiographies and different aspects of the Sankari culture.
Some of my books are Sarvagunakara Srimanta Sankaradeva, Sri Aurobindo, Saahitya aru samikshaa, Sankaradevar ekasarana tattva, Jagadguru Sankaradeva, Sankaradeva adhyayanat bisangati, Development issues of North East India, Srimanta Sankaradeva in all India perspective, Unique contributions of Srimanta Sankaradeva in religion and culture, Sankari sahitya aru sanskritir baisistya, Purnanga Katha Gurucharit, Strategy for industrialization, Issues in industrialization, Namghosha : the oriental gem, Great songs, Garland of virtues, Bardowa Gurucharit (edited), Sankar Charit (edited), Sriguru Charit (edited), Problems of industrial labourers in Assam (edited), Great Persons of Assam, Srimanta Sankaradeva : an epoch maker, Srimanta Sankaradeva : a multi-faceted genius, Majuli : Resources and Challenges (edited), Sankari Sanskriti aru Darshan, Srimanta Sankaradevar Kriti aru Darshan, Mahapurusha Srimanta Sankaradeva, Madhavadeva, Essays on Srimanta Sankaradeva, and Life and Contributions of Srimanta Sankaradeva.
My book 'Mahapurusha Srimanta Sankaradeva' was appreciated in Frankfurt Book Fair in 2006 AD. Beijing Book Fair of 2010 and Seoul International Book Fair of 2013 also displayed some of my books. Majuli : Resources and Challenges was marked by different websites as one of the important books published in the entire country. There are listings of my books in different Worldcat libraries around the world. My books have been procured by libraries in USA, UK, Canada, Germany, South Africa etc. Universities of Oxford, Cambridge, Chicago, Boston, Pennsylvania, Columbia, Emory, North Carolina, Texas, Pittsburgh, Minnesota, Syracuse, Wisconsin, Hawaii, Washington, Stanford, Illinois, McMaster, Yale, Michigan, Free State, Toronto, Heidelberg etc have preserved my books in their libraries. Library of Congress in Washington has listed some of my books.
I was President of Kalangporiya Alochana Chakra, the second oldest literary organization of Assam from 2006 to 2012. I have been President of Society for Srimanta Sankaradeva, the global organization engaged in promoting Sankari culture and literature since May, 2011. I was a member of the Academic Council in Mahapurusha Srimanta Sankaradeva Vishwavidyalaya from 2014 to 2017. I am an executive member of Majuli Cultural Landscape Management Authority, Government of Assam. I am also member of Academic Council in National Law University and Judicial Academy, Assam.
An Assamese feature film was made on Srimanta Sankaradeva in 2009, in which I was the screenplay editor. A documentary was made by Doordarshan on Madhupur Than in 2014 based on my script. A TV serial is presently being made on the life of Srimanta Sankaradeva based on my story.
Chandrakanta Hiraprabha Barua Trust, Titabor awarded Chandrakanta Hiraprabha Barua Memorial Vaishnavite Literature Award to me in 2008 for my literary work on Srimanta Sankaradeva. Pratishruti Foundation of Mumbai felicitated me for works in art and culture in 2016. Asom Sahitya Sabha, Jorhat district committee conferred the Sankari Sahitya Sanskriti Award on me in 2022. I was inducted as an expert member in  International Committee of Intangible Cultural Heritage (ICICH) of International Council on Monuments and Sites (ICOMOS) in 2020. I became a member of Commission on Education and Communication (CEC) under International Union for Conservation of Nature (IUCN) as well as expert member in International Cultural Tourism Committee (ICTC) of ICOMOS in 2023. I was also elected Secretary General of Delphic Council of North East India in 2023.